Jerry Daze is an annual tribute
to the music and spirit of the late
Jerry Garcia, guitarist and
leader of the
Grateful Dead.
The Jerry Daze concerts were originaly presented by KoolBeanz Coffeehouse starting in 1999, and again in both 2000 and 2001. The closing of KoolBeanzin April 2002 has not meant an end to this show but merely a change of venue.
This years "Jerry Daze" tribute was on Saturday, June 8, from noon til midnight, at the
Comfort Inn Ballroom,
3901 North Atlantic Ave (A1A)
Cocoa Beach, Florida.
Cost was $5.00 at the door.
(back to top)
Previous Jerry Daze Pics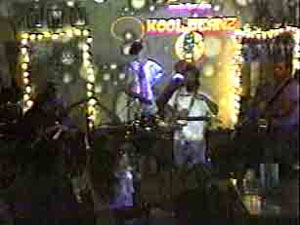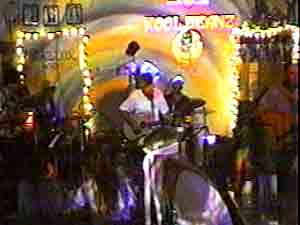 (back to top)
Check Out
these videos from previous
Jerry Daze shows.

From Jerry Daze 2000
"Red Rooster"
featuring Hoagie from
INCahoots, Steve Rinker
on slide, and
DutyFree on guitar.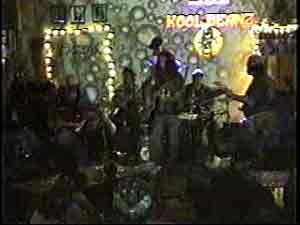 From Jerry Daze 2002
"Chinese Bones"
A Robyn Hitchcock song covered by the Dead exactly
one time.
Performed by Mike Runion
with Logan Reedy on percussion.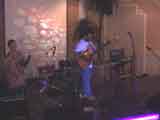 (back to top)
this just in
some late-breaking 411 on the show
performing will be many fine musicians from Brevard & around
Florida..including: Dave Grooms & the DEADbeats, The HoneyBucket Hillbilly Band, Bill & Eli Perras, Kim Roque & Patty Lewis, Janet Reedy, Terry Kelly, Bill Stuart, Larry Smith, Laurie Broadway, Invisible Ink, Matt Riley, Billy Heigle, Brian McCahill, Steve Rinker, & MANY more!!! We've got four thousand square feet
to play in this year, so I'm sure it's going to be a BLAST!!
Just as last year, Silent Auction
& Raffle Items at the event will go to benefit the STUDENTS FOR A FREE TIBET ( www.tibet.org/sft ) We raised over $1600.00 for them last year, and hope to double that this year!!
Many of Jerry's friends have donated wonderful items for the auction & raffle!! Auction & Raffle items (many autographed) have
been donated by: Deborah Garcia (Jerry's widow) & The Jerry Garcia Estate (a limited Jerry gliclee print, a Jerry doll, and 2 Wolman gallery posters) . Signed CDs by R.E.M., Blues Traveler, & Sean Lennon, Lee Greenwood. Grateful Dead Records- Dick's Picks & Dead play Dylan CDs. That 70`s Show
(cast signed t-shirt),
3rd Rock From the Sun (cast signed table script). Smithstonian Folkways Records (Broadside Box Set).

Signed Photos by: Frankie Avalon, Jeb Bush, Bryan Adams, Billy Gillman, Suzanne Vega, Lee Greenwood, The Electric Prunes, Uriah Heep, Status Quo, Brewer & Shiply, Pauly Shore, Chris Rock,
and others. Signed cartoons by: "Lockhorns" -Bunny Hoest, & Pete Sinclair. Gift Certificates from Contemopary Concepts Jewelry, and Sunseed Co-op Health Food. Music Stuff from FYE Records.